Who Benefits?
Gorfenna Community provides for those with mental health issues, learning difficulties, stress, anxiety or depression, physical health problems, brain injury or autistic spectrum disorder.
How Does it Help?
There is a well-established and growing body of evidence that shows that spending time hands-on with plants and animals can make a noticeable difference to your well-being. Some of the benefits include:
§ Increased self-esteem
§ Improved social interaction
§ Enhanced confidence
§ Developing awareness of well-being
§ Working individually and as part of a team
§ Preventing deterioration in many conditions



Gardening and looking after animals can improve physical health and mental well-being. It also provides structure, routine and respite. It confirms something that we already knew – that time spent with other people in a natural environment will only do you good.
Activities
The activities taking place are completely led by the person attending. What we mean by that is there is no pressure from us to do anything that you do not want to do.
Typical farm activities include feeding the animals, collecting eggs ready for sale, caring for the pigs, sheep and miniature horses.
Typical outdoor activities include:
· Feeding animals · Collecting eggs · Growing vegetables
· Weeding · Picking what we've grown · Eating what we've grown
· Using tools · Woodworking · Fencing
Indoor activities will be seasonal and included in the price.
· Spring – setting seeds and plants, making bird boxes, lambing.
· Summer – making bird tables, outdoor furniture, vegetable trugs
· Autumn – lantern making, Halloween pumpkins.
· Winter – making Christmas wreaths, Christmas decorations/presents
​Year round we always provided a wide range of crafting activities in one of our indoor rooms.
If you wish to go outside, it is always advisable to bring sturdy foot wear and raincoats for rainy days but we have boot washing and hand washing facilities.
ACTIVE PLUS

In addition to the activities always going on, we are very lucky to be connected to another organisation funded by The Big Lottery - Active Plus who come along and put on specific activities for a set period of time ie a 6 week cooking course, armchair exercise, low level fitness, team building etc. Please give us a ring and check what's going on.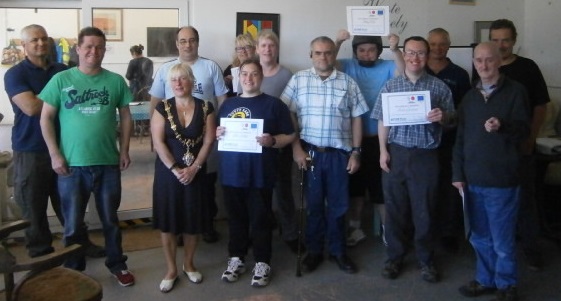 Our Staff
We have a small but dedicated group of staff and volunteers, each bringing different skills and life experiences. Alongside the very wide practical skills, our staff have a broad experience in either social work, teaching or care work. They are keen to enhance the lives of those attending our Service and put in a lot of extra time and effort enabling them to take part in activities beyond their day service hours.